1921 West Genesee Street | Syracuse, New York 13204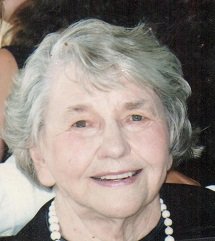 Share Your Memory of
Caroline
Obituary of Caroline M. Blakely
Caroline Miller Blakely, 93, peacefully moved on at home to her soul's next adventure. Born in LeGrande, Kentucky on April 12, 1924, she was a woman of many causes. In 1953, she moved across the U.S. as a widow of 5 children, ages 1 ½ - 11 to start Bethel College in Tenn. She graduated Summa cum laude in 1958 and was offered a full tuition scholarship to SU in adult literacy, School of Journalism. She was the first woman in the U.S. to receive a master's degree in literacy journalism. Starting her career in 1960 as the first paid employee of Laubach Literacy as editor of "News for You", a weekly newspaper in easy English for national distribution geared towards adults just learning to read. She "retired" after 23 years and put her efforts into making a difference locally (fighting to have a reassessment of city properties done, providing decent housing as a landlord for low income families, and being an active member of Peace Action of CNY. She was the first woman appointed to the Board of Assessment Review, where she served for 10 years. As a member of Peace Action, she attended 6 annual peace congress conferences over the next decade. In 2000, she was proudly arrested for trespassing at Los Alamos during a nuclear war protest. In 2001, she was awarded the Peace Action Award and went on to independently start a wreath fundraiser, Peace on Earth being the message.
She lived on Onondaga Ave for more than 30 years, where she owned other properties and was known for her sweet demeanor and slight southern drawl. She was always picking up trash along the road and in the park and was a grandmother to all who knew her. She loved to fish, play pinochle and the thing she was most proud of was her family.
She was predeceased by her two husbands, Charles Lynch and Durward Earl Blakely, as well as her eldest child, Carol Lynn Berry.
She is survived by Charles Lynch of New Mexico, Donna (Dean) Pohl of Raquette Lake, NY, John Blakely of Syracuse, and David (Annie Papworth) Blakely of Syracuse, 13 grandchildren, and several great grandchildren and great, great grandchildren.
Calling hours will be 2 to 4 p.m. Monday at Tindall Funeral Home, 1921 W Genesee St., Syracuse, NY with a service at 4 p.m. Burial will be in the spring.
In lieu of flowers, contributions may be made to Peace Action Of Central New York, 2013 E. Genesee Street, Syracuse, NY 13210.
Memorial Service
Monday, January 15, 2018
Tindall Funeral Home Inc.
1921 W Genesee St
Syracuse, New York, United States

Get Directions