1921 West Genesee Street | Syracuse, New York 13204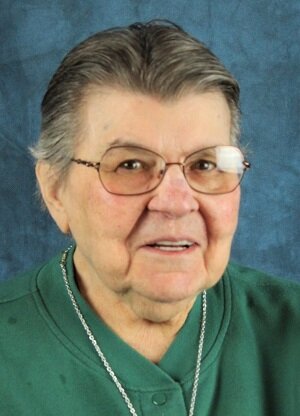 Share Your Memory of
Sister Joyce


Obituary of Sister Joyce Marie Traufler, OSF
CLICK FOR RECORDING OF SERVICE
Sister Joyce Marie (M. Aimee) Traufler embraced Sister death on Wednesday, June 14, 2023 at the Franciscan Villa in Syracuse, NY. Sister was 85 years of age and had been a Sister of St. Francis for 65 years. Joyce was born in Buffalo, NY to Francis Nelson and Dolores Best Traufler. Her home parish was St. Gerard in Buffalo, NY. Joyce entered the Sisters of St. Francis in 1957 and was invested with the Franciscan habit on March 4, 1958. At this time, she received the name of Sister M. Aimee.
Sister began her ministry as a teacher and taught at three schools in New Jersey, St. Joseph's School in Camden, St. John the Baptist in New Brunswick, and St. Francis in Hoboken. Then, by necessity, she was called upon to use her many talents in other ministries directly within her religious community.
Sister Aimee patiently tended the aging at Loretto Rest, St. Anthony's Motherhouse and St. Francis Adult Day Care Center, where her skills at care-giving, sewing, cooking, driving and arts and crafts were invaluable.
But perhaps, Sister will most be remembered for the years spent at Stella Maris Retreat House in Skaneateles, NY. While she served primarily as a food service provider, she also acted as a "Jack-of-all Trades" taking on a myriad of tasks including driving the tractor to clear the snow and cut the grass.
Lastly Sister moved to the Franciscan Villa where she continued her arts and crafts and was a faithful prayer minister.
Sister Joyce Marie was a prayerful, devoted servant of God who will be remembered as a kind, unassuming, caring, hard working person, always "willing to do whatever was asked of her" to the best of her ability. He smile could light up the day. She will be dearly missed.
Sister is predeceased by her parents; brothers, Clyde (Patricia), John (Maryann), Thomas (Anne) and William Traufler; sisters Doreen (Edward) Snyder, Ruth (Robert) Schoelerman, Marilyn (Edward) Willsey; and brothers in law, Thomas Angello and Myron Exford.
She is survived by the Sisters of St. Francis; sisters, Ann Exford and Barbara Augello; brothers, Francis Traufler and wife Melody, Richard Hans Stetter and wife Paula and several nieces and nephews.
A private Mass of Christian Burial will be held at the Franciscan Villa, 6900 Buckley Road, Syracuse, NY. Interment will follow in Assumption Cemetery.
In lieu of flowers, donations may be made to the Sisters of St. Francis of the Neumann Communities, Congregational Development Office, 225 Greenfield Pkwy., Suite 208, Liverpool, NY 13088.