1921 West Genesee Street | Syracuse, New York 13204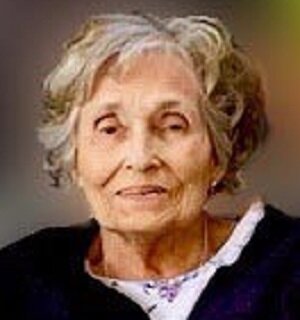 Share Your Memory of
Betty


Obituary of Betty H. Smith
On June 04, 2023, Betty Hanlin Smith, 91, of Syracuse, NY, passed away peacefully at her residence in Brookdale Summerfield.

Betty was a longtime resident of Camillus, NY, where she raised a family of six children with her beloved husband, James Smith. Born in Western Springs, IL, she was the only child of Frank and Sarah Schaefer Hanlin. She attended DePauw University and pledged to the Tri Delta sorority, where she met and later married James in 1951. In the mid-sixties she returned to school at Syracuse University, eventually earning a master's degree.

Betty's life was deeply entwined with Syracuse University. She took a position as adjunct faculty and lecturer in the School of Human Nutrition, teaching nutrition and meal management from the late 1960s into the 1990s. She was a fierce and loyal fan of Syracuse Athletics and perhaps no one was happier than Betty when the Orange won the Men's Basketball National Championship in 2003. She developed a lifelong affection for train travel, and in later years enjoyed Amtrak across the United States and the Oriental Express across China, traveling along the ancient Spice Road.

She was deeply passionate about the transformative power and importance of education in a person's life. All six of her children graduated from West Genesee High School and attended or graduated from Syracuse University, all under her unwavering attention to their grades and attendance. It's doubtful if there was a school subject with which she couldn't assist on homework. She volunteered at Maxwell Memorial Library in Camillus, and she and James were for many years members and officers of the Onondaga Yacht Club. She was a lifelong birding enthusiast and supporter of the Cornell Lab of Ornithology, and a tremendous fan of murder mysteries and American history. Betty was always a crafter, sewing clothes, needlepointing, and hooking rugs. She belonged to the Twisted Stitches Knitting Guild and staffed the Guild demonstrations at the New York State Fair. But she grew wildly passionate about a humble, but most comforting, piece of clothing, and became a prodigious sock maker. When she gifted people her warm and comfortable socks, they treasured them.

Betty was predeceased by husband James Eldon Smith, who died July 20, 2008, and son Hugh Kendall Smith, who died November 27, 1987.

She is survived by son Eric Morgan Smith and wife Janice Kelley Smith, grandsons Ben Pham Smith and David Kendall Smith and wife Vi Smith, and great grandchildren Jay and Evelyn. She is survived by daughter Sarah Smith and husband Morris Patterson, granddaughter Lydia Patterson Kikolski and husband Bob Kikolski. She is survived by daughter Diane Smith Asmuth and husband David Asmuth, grandchildren Kevin Staebler, Jacob Asmuth, and Hope Asmuth. She is survived by son Clay Sherman Smith and wife Teri Hirsh Smith, grandchildren James Smith and granddaughter Kelly Smith. She is survived by son Henry Creighton Smith and wife Shawn Coker Smith, and grandson Hugh Evans Smith.

In lieu of flowers, donations may be made to Friends of Maxwell Memorial Library (maxwellmemoriallibrary.org/friends) or Cornell Lab of Ornithology (birds.cornell.edu)

A private memorial service will be held at a later date.