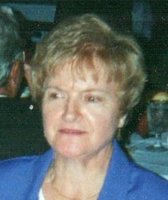 Dorothy Geraldine Pirong
Dorothy "Jerri" (Garn) Pirong, 79, of Syracuse passed away Tuesday, at Van Duyn Center. Born in Syracuse, she was a graduate of Vocational High School. Jerri was retired from Onondaga County after over 30 years. She was an avid reader.
Survivors: sisters, Janet Pirong of Syracuse, Sally Miller of Liverpool, brother, Francis Robert Garn of Syracuse; several nieces and nephews.
Services: 9:30 am Thursday January 18, at Tindall Funeral and 10 am Thursday at Most Holy Rosary Church, where a Mass of Christian Burial will be celebrated. The Rite of Committal and interment will follow in St. Mary's Mausoleum, DeWitt. Calling hours will be 4 to 6 p.m. Wednesday January 17, at Tindall Funeral Home, 1921 W Genesee St, Syracuse, NY.
In lieu of flowers, contributions to Brady Faith Center, 404 South Avenue, Syracuse, NY 13204.