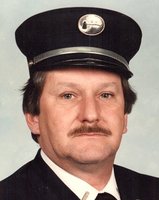 Michael B. Gallagher
Michael B. Gallagher, 74, of Westvale passed away September 11, in his loving wife's arms. Mike was a retired Lieutenant with the Syracuse Fire Department, receiving many commendations throughout his career. He enjoyed the camaraderie and brotherhood of his fellow firefighters and was an avid sportsman. He belonged to 7's Enuff Hunting Camp for 25 years. As an accomplished carpenter, he enjoyed creating special items for his family.
He was predeceased by his parents, Dorcas and Charles Gallagher, brother, Jeffrey and daughter Holly.
Survivors: his wife of 33 years, Jill; daughters, Karen (Steve) Sperduti, Anita (Andy) DiSalvo, Natalie (John) Adams; son, Daniel (Tammy) of North Carolina; grandchildren, Carrie, Alex, Greg, Jake, Michael, Mark, Kate, Winston, Rachel, Ryan; four great grandchildren and two on the way; brother, Roger (Christine); sisters, Carolyn (Morrell) Boone of Michigan and Patricia O'Connor of Michigan; and several nieces and nephews.
Services: Calling hours will be 3 to 6 p.m. Thursday, September 14, at Tindall Funeral Home, 1921 W Genesee St, Syracuse, NY.
In lieu of flowers, contributions may be made to the National Fallen Firefighter Foundation, PO Drawer 498, Emmitsburg, MD 21727.