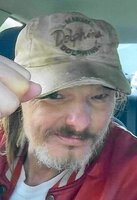 Peter Eli Beaudion
Peter Eli Beaudion, 53, of Syracuse passed away June 9, 2022 at Oswego Hospital.
Peter is survived by his mother, Alberta M. Beaudion; step father, David Mcclure; wife, Ann Curtis; 2 daughters, Alberta A Beaudion and Lynn Beaudion; 3 grandchildren, Olivia, Ethan, Greyson; 5 brothers, Bernard W. Jr., Arthur, Leroy, and Alvin Beaudion, Mark W. Gordon Jr.; sister, April Gordon; 4 sister in laws, Tyana Gordon, Stephanie Beaudion, Tara Swete, Richelle Hurry; 2 brother in laws, Vinh Nguyen, Victor Bird; many nieces and nephews.
He was predeceased by his father, Bernard W. Beaudion Sr., sister, Anita Beaudion Bird, Mark W. Gordon Sr.
Peter will be remembered with a Keystone in his hand with his oldies country music playing.
Calling hours will be 10a to 12p Wednesday June 15 at Tindall Funeral Home, 1921 W Genesee St. Syracuse, NY