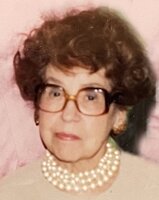 Eleanor C. Sabene
On Friday April 1, Eleanor Sabene 98 of Solvay, passed peacefully in her sleep at Crouse Hospital after a brief illness. Eleanor was born February 4, 1924 in Readsboro, Vermont and her family moved to Solvay in 1928. She was a graduate of Solvay High School. Eleanor was employed as a sales person at local department stores including Sibleys, Addis and Dey, and Lord and Taylor. Her hobbies were knitting and embroidery both in which she excelled. Eleanor was a parishioner of St Patrick and St. Brigid Church in Syracuse.
She was predeceased by her parents, Peter and Alice Antolini; husband of 59 years, James V. Sabene Sr. and her brother, Ronald J. Antolini.
Eleanor is survived by her son, James V. Sabene Jr.; her sister, Norma Salvatore and many nieces and nephews.
Services: 10:30 am Friday April 8, at St. Charles Church where a Mass of Christian Burial will be celebrated. The Rite of Committal and Interment will follow at St. Mary's Mausoleum, DeWitt. There will be no calling hours.
In lieu of flowers, contributions may be made to the Solvay Fire Department, 1925 Milton Ave. Solvay, NY 13209