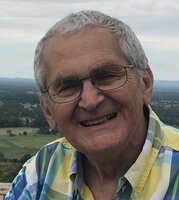 John J. Colella
CLICK FOR: RECORDING OF SERVICE
John Joseph Colella, 82 of Liverpool, NY, passed away peacefully on Wednesday in Syracuse surrounded by his loving family. John was born in Syracuse and attended Central Tech where he studied to be a pressman. After working as a pressman for a number of years, John launched the successful MC Printing and served as the CEO for over 20 years along with his son Randy and wife Marion. He enjoyed being with his family most of all. His many hobbies included camping, travelling, boating, RC Planes, sports cars, love of history, museums, stamp and coin collecting and the simpler things in life to include having a nice meal, seeing live music and following SU and other sports! He was a superb cheerleader of his children and grandchildren's pursuits and passions in life and encouraged them to leverage their gifts and talents to be the best they could be! John was quick to open up and could strike up a conversation with anyone and express love to others, had an infectious smile and wore his emotions on his shirt sleeve. He was a member of Christ The King Roman Catholic Church in Liverpool for the last 50 years and always looked to the Lord and prayed continuously for healing support and good will to his family and friends.
John is survived by 4 children, Guy Colella (Linda), Keith Colella (Daisy), Randy Colella (Linda), and Heidi McGlory (Michael); 7 grandchildren, Joseph, Isabel, Suzanne, Cecelia, Melissa, Lauren and Kristin; niece, Karen Szakley, nephew, Andy Stapleton; John's girlfriend, Mary Fordyce, and many great nephews, nieces and cousins.
John is predeceased by his spouse of 40 years, Marion Colella; brother, Michael Colella; sister, Theresea Stapleton (Don), his parents, Mary and Antonio Colella, along with many cousins, aunts, uncles, brother and sister in laws.
Services: 10:00am Wednesday January 19, at Tindall Funeral Home. Livestream begins at 10am on facebook.com/TINDALLFH Interment will follow at Woodlawn Mausoleum in Syracuse. Calling hours will be 5 to 7 pm Tuesday January 18, at the funeral home, 1921 W Genesee St. Masks required.
In lieu of flowers, contributions may be made to The Upstate Foundation, Inc. 750 E. Adams St. Syracuse, NY 13210 or upstatefoundation.org