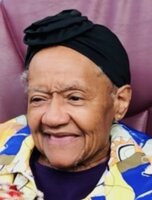 Rosenia Asbery
Rosenia Asbery was a native of Florence, South Carolina and was preceded by her husband, Deacon Cooper Asbery and her mother, Pearlena Godbolt Rosenia was a member of New Jerusalem Missionary Baptist Church. She was a native of Syracuse, NY for over 50 years she is survived by her two daughters Rachel Facen of Palm Beach, FL., and Nanette Chavis of Syracuse, NY and 10 grandchildren, Melody, Sharon, Lakeia, Nehemiah, David Anthony, Pamela, Tamara, Antwan Ramone, Antonio, Antoinette; with 30 great grandchildren 9 great great grandchildren and a host of other relatives and friends.
Rosenia was a kind hearted person who loved people and would help who she could. She was a family woman who instilled life values in her children and grandchildren.
We are going to miss those talks mama, you are our shining star.
Services: 11am Thursday at Tindall Funeral Home. Burial will follow in Oakwood Cemetery.