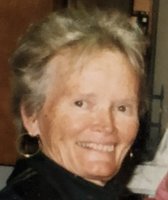 Anna M. Hubert
Anna (Erwin) Hubert 86, of Syracuse passed away at home Sunday following a brief illness. She was born in Syracuse and lived there her whole life. She was an avid sports fan and followed SU, the NY Yankees, Golf and Notre Dame football. She loved anything Irish, and was extremely proud of her Irish heritage. She treasured her two cats, Zeus and Jack, who were waiting at the rainbow bridge. She retired from NY Telephone in 1991, where she had many good friends. She was active in both golf and bowling leagues. She was a communicant of St. Charles - St. Ann's Parish.
She was predeceased by her parents, Stephen and Barbara Erwin, two brothers, Stephen and Richard, and her sister, Irene Erwin.
She is survived by her husband of almost 58 years, Joseph Hubert; a daughter, Catherine Hubert (John Wirth), two sons, Joseph M. and David (Frederica) Hubert; one grandson, Daniel James, and many nieces, nephews, cousins, and friends.
Services: 12pm Friday July 9, at St. Charles Church where a Mass of Christian Burial will be celebrated. Burial will follow in Greenlawn Cemetery. A Calling hour will be from 11am to 12pm Friday at the church prior to the Mass.
Contributions may be made in her memory to the Parkinson's Foundation, 200 SE 1st St., Suite 800 Miami FL, 33131 (parkinson.org) or to the Alley Cat Allies PO Box 98179, Washington DC 20077 (alleycat.org)