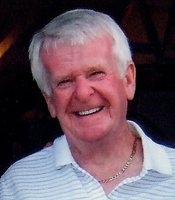 David E. "Red" Bradley
David E. "Red" Bradley, 79, of Camillus passed away peacefully on Sunday, February 21. He was a graduate of Solvay High School and a US Navy Veteran. David retired from New Venture Gear in 1999 after 28 years of service. He was an avid golfer and his favorite pastime was spending time at Westvale Golf Course where he valued his time with many friends.
David was predeceased by his parents, Wilbur and Helen, and brother, Dennis.
Survivors: his loving wife Leonore; sister, Diane (Michael) Miller of Camillus; sister in law, Lori Bradley; two sons, Daniel (Stephanie), Michael (Devin); four step daughters, Shelly, Jayne, Leeann and Jodie; 10 grandchildren, and several nieces, nephews and cousins.
Services: Private burial will be in St. Francis Xavier Cemetery at the convenience of the family.