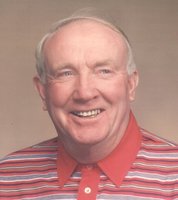 Michael Joseph "Joe" Ruane
Michael Joseph "Joe" Ruane of Warners, NY shook off this earthly existence and passed to Eternal Life on Thursday, September 26, 2019, at his home, surrounded by loving family members. He was 91 years old.
Son of Michael and Catherine Ruane, Joe was born In Castlebar, Co. Mayo Ireland in 1928. He spent his late teens and early twenties in England, before leaving home and family for the promise of the "States" in 1950. Two years later on October 4, 1952 he married "his Margaret". He became a US Citizen in 1956.
His life was a labor of love and a love of labor. He was a loyal member of Central New York Laborers where he held numerous union leadership positions before retiring from the Syracuse Housing Authority in 1990. He seldom took a real vacation and when he did, it was to return to Ireland with Margaret and several of his children. He often worked outdoors under harsh and extreme conditions, before returning home to catch the day up with Margaret at the kitchen table while she cooked supper. And he would do it all again the next day and the next.
Faith and Family were the cornerstones of his life and will ever be part of his legacy and a life well- lived. He was a daily communicant at Holy Family Church in Fairmount. He loved Margaret with a simple purity seldom seen to this day, which only intensified after her untimely passing. Not one single day passed when he didn't tuck her well-worn mass card into his shirt pocket and over his heart. He was a devoted father, doting grandfather, and proud great-grandfather, affectionately known as "GG".
Joe was predeceased by Margaret in 1991, his grandson Sean Ruane in 2011, his daughter in law Peg (Gerald) in June and his siblings: Mary Murphy, Pat Ruane, Tom Ruane, Delia Stuart and Peggie Gibbons.
He is survived by his children Michael (Ann), Jim, Tom (Peggy), Dick, Gerald, Kathleen (Fred) Mahardy, Kevin (Don), Sean, Dan, Dennis (Megan), Peggy (Brad) Wade, eleven grandchildren, twelve great grandchildren and numerous nieces and nephews.
Services: Calling hours will be 4:00 to 7:00 PM on Thursday October 3rd at Tindall Funeral Home, 1921 W Genesee St., Syracuse. A Mass of Christian Burial will be celebrated at Holy Family Church in Fairmount at 11:00 AM on Friday October 4th (Joe and Margaret's 67th Anniversary). Burial will follow at St. Mary's Cemetery in Dewitt, NY.
In lieu of flowers, donations may be made in Joe's name to Holy Family Church, 127 Chapel Dr, Syracuse, NY 13219.