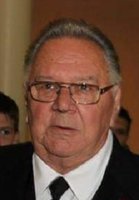 Peter P. Harhay
Peter P. Harhay, 84, of Camillus passed away peacefully on Friday. He was a US Army Veteran and retired from the US Postal Service.
Survivors: loving wife, Maureen (Sullivan), daughter, Theresa Kilian; granddaughters, Heather Kilian, and Kimberly (Chris) Ignatowski; two great grandchildren, Brandt Breezee and Harper Rose; his beloved God-daughter, Ramona Colucci and several nieces and nephews.
Services: 11 am Thursday at Tindall Funeral Home. Burial with military honors will follow in Veterans Cemetery. Calling hours will be 9 to 11am Thursday at the funeral home 1921 W. Genesee St. prior to the service.
In lieu of flowers, contributions may be made to HumaneCNY, 6801 Kinne St, East Syracuse, NY 13057.