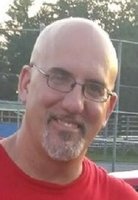 Rudy B. Hemingway
Rudy B. Hemingway, 39, of Solvay passed away Friday after a long illness. Born in Syracuse, he worked for Bob's Tires for 8 years. Rudy had a passion for classic cars and loved spending time with his family and friends. He always made people laugh and would help anyone at anytime and even after death he gave to others as an organ donor.
Survivors: sons, Rudy Jr. and Elijah, his parents, Mike and Cindy Winchell; brothers, Jesse (Stephanie) Hemingway, Brian Hemingway, and Josh Hemingway; fiancee, Ashley Martin; several aunts, uncles, cousins.
Services: Calling hours 5 to 7pm Friday at Tindall Funeral Home, 1921 W Genesee St. with service to follow at 7pm.